Dear friend,
Well, what a fantastic October we had here at St Ann's Allotments!
We have had such an incredible harvest that we were able to offer four Play, Grow & Eat sessions over the half term. These sessions support our local families in St Ann's by providing a safe space and a warm meal for all the family to ease the impact of the cost of living crisis. Learning opportunities are also available within these sessions through veg workshops and food prep demonstrations, all within our beautiful Community Orchard.
We also held our first youth consultation event, a pizza party where young people had the opportunity to get creative and gave us their thoughts on what activities they would like to be involved in. A feedback week was held, gathering everyone's thoughts during each session on the impact of growing and harvesting food and what it meant to them.
And of course, our Apple Day celebrations! So glad to see so many faces, both new and familiar on one of our most exciting days of the year. There was apple pressing & tasting, kids crafts, tasty soup for all and the steel band even brought us a little snippet of sunshine – we can't wait until next year to do it all again!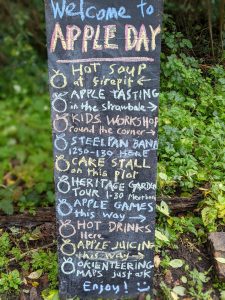 As we head into November there is still plenty to celebrate as we begin the month with Trustee's Week (6th – 10th). We really couldn't have achieved what we have without the support, knowledge and experience of our board of wonderful trustees. To every single one of you, thank you so so much for all that you have done and continue to support us within our small but impactful charity.
If you think you might be interested in becoming a trustee, we are looking to expand our board of passionate people who strive to help the local community. Keep an eye out for website updates and on our socials for more information and for a small insight into the world of some of our current trustees over the next week!
PS. If you'd like to receive news like this in your inbox each month, join our mailing list here.
Best wishes,
Kayleigh
Upcoming Workshops
Looking for gifting ideas this Christmas?!
We do offer gift cards for our workshops, so you can share our horticultural, floristry and seasonal crafts experiences with friends and family.
Propagation: Create Your Own Soft Fruit Garden
Saturday 11th November 10.00 – 12.00 – £25
Learn a host of propagation techniques that are suitable for this time of year. Take away cuttings to establish a fruit garden in pots, a garden or an allotment.
Planning Your Edible Garden
Saturday 11th November 13.30 – 16:00 – £25
Learn a host of propagation techniques that are suitable for this time of year. Take away cuttings to establish a fruit garden in pots, a garden or an allotment.
Festive Willow Crafts
Saturday 25th November 13.30 – 16.00 – £35
Make your very own festive crafts out of willow! This enjoyable session will provide you with the skills, equipment and guidance to create your own projects.
Christmas Wreath Making
Sat 25th Nov (Sold Out!) & Wed 6th Nov – £45
Create your own large, hand crafted festive wreath in this relaxing and creative session. Using beautiful winter foliage and a range of fresh and dried natural materials you will make and take home a wreath you are proud to hang on your door! Festive refreshments included.
Christmas Table Decorations
Wednesday 29th November 13:30 – 16:00 – £30
This workshop will be a relaxing and creative session using natural materials to make your own Christmas table decoration using fresh and dried foliage gathered from the gardens and hedgerows of this Grade 2* Listed allotment. Materials and festive refreshments are included.
Learn How To Build Compost Bins
Saturday 9th December 13.30 – 16.00 – £30
Everything you need to know to build your own compost bin at home, as well as the characteristics of a good compost system.
On the Orchard
The Community Orchard runs free events for all ages.
New Shoots, every Tuesday in term time, 09:30-11:00
After School, every Wednesday in term time, 15:30-17:00
Community Open Day, Saturday 25th November, 12:00-15:00
Community Open Day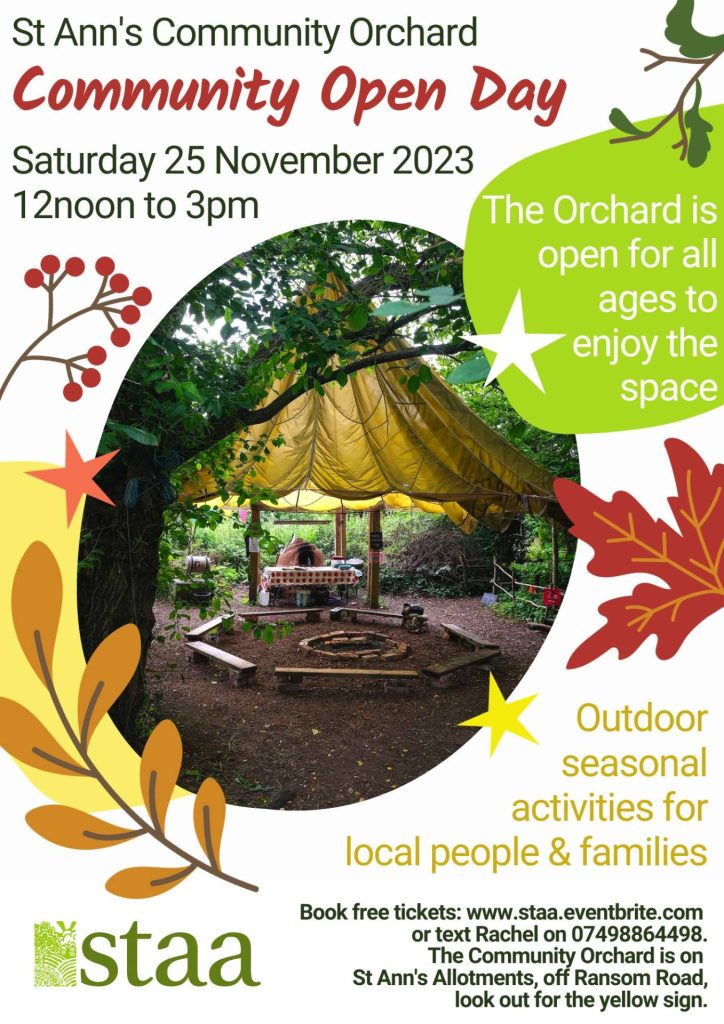 Volunteering & Social Gardening
Volunteering continues as usual, with plenty of opportunities to join us!
Tuesdays at the Nursery, 10:00-14:00
Digging, sowing, pruning, clearing, building, watering, harvesting! All things food and flower focused for a productive garden.
Wednesdays at Oliver's, 10:00-14:00
Help maintain a beautiful display garden for visitors to enjoy, and promote its heritage features.
Our Social Gardening sessions will run alongside our usual volunteer sessions, giving you the perfect opportunity to come and enjoy the the beautiful spaces, see our volunteer projects and have a go if you wish!
Volunteer inductions:
Saturday 11th November 14.00 – 16.00
Tuesday 14th November 10.00 – 12.00
Wednesday 15th November 10.00 – 12.00
This is an introductory session for anyone interested in volunteering at STAA. Receive a tour of our projects to find out what you might be interested in, and an opportunity to meet people and ask questions.
If you have any questions about volunteering or social gardening, please contact Lucy at volunteer@staa-allotments.org.uk or visit our volunteer page.
Sam, Lucy & Jen