Dear friend,
The Autumn months are officially here! It is safe to say that this is my favourite season. Especially because of the way the deep green of the leaves turn into vibrant oranges, yellows and muted browns then fall from the trees to provide us with that crisp, rustling sound under foot.
Last month brought us an incredible harvest, with one week harvesting 82.5kg of produce! A huge huge thank you to all our volunteers involved to enable us to provide meals and fresh produce to the local community as part of the STAA Harvest Project.
This month, we will be holding a feedback week from the 23rd – 29th with a theme of Community Harvest. At all our events in this week, including Apple Day (more on that below!) we will be hearing your thoughts and taking this opportunity to really celebrate our harvest.
We look forward to seeing you there!
Best wishes,
Kayleigh
PS. If you'd like to receive news like this in your inbox each month, join our mailing list here.
Upcoming Workshops
Propagation: Create Your Own Soft Fruit Garden
Saturday 11th November 10.00 – 12.00 – £25
Learn a host of propagation techniques that are suitable for this time of year. Take away cuttings to establish a fruit garden in pots, a garden or an allotment.
Planning Your Edible Garden
Saturday 11th November 13.30 – 16:00 – £25
Learn a host of propagation techniques that are suitable for this time of year. Take away cuttings to establish a fruit garden in pots, a garden or an allotment.
Festive Willow Crafts
Saturday 25th November 13.30 – 16.00 – £35
Make your very own festive crafts out of willow! This enjoyable session will provide you with the skills, equipment and guidance to create your own projects.
Christmas Wreath Making
Three dates: Sat 25th Nov (Sold Out!), Wed 6th Nov & Sat 9th Dec, £45
Create your own large, hand crafted festive wreath in this relaxing and creative session. Using beautiful winter foliage and a range of fresh and dried natural materials you will make and take home a wreath you are proud to hang on your door! Festive refreshments included.
Christmas Table Decorations
Wednesday 29th November 13:30 – 16:00 – £30
This workshop will be a relaxing and creative session using natural materials to make your own Christmas table decoration using fresh and dried foliage gathered from the gardens and hedgerows of this Grade 2* Listed allotment. Materials and festive refreshments are included.
Learn How To Build Compost Bins
Saturday 9th  December 13.30 – 16.00 – £30
Everything you need to know to build your own compost bin at home, as well as the characteristics of a good compost system.
Guided Tours
We lead walks around St Ann's Allotments on the last Wednesday of every month, 1:30-3pm. The 1.3-mile guided tour takes you to our Heritage Display Garden and Nursery, telling the 700-year story of how this 32-acre site changed from pasture and orchards, to Victorian pleasure gardens, to working-class allotments. Including stories of people who lived here and the grassroots campaign to save the site from redevelopment.book tickets here.
Find out more and 
On the Orchard
The Community Orchard runs free events for all ages.
New Shoots, every Tuesday in term time, 09:30-11:00
After School, every Wednesday in term time, 15:30-17:00
Community Open Day, (Apple Day!)  Saturday 28th October, 12:00-15:00
This months community open day is our infamous Apple Day! A fun, wholesome afternoon for local people to join in the annual celebration of apples and orchards, on our very own Community Orchard.
There will be some apple tasting, pressing and juicing, apple-themed games, a creative workshop for kids, and light refreshments throughout the day.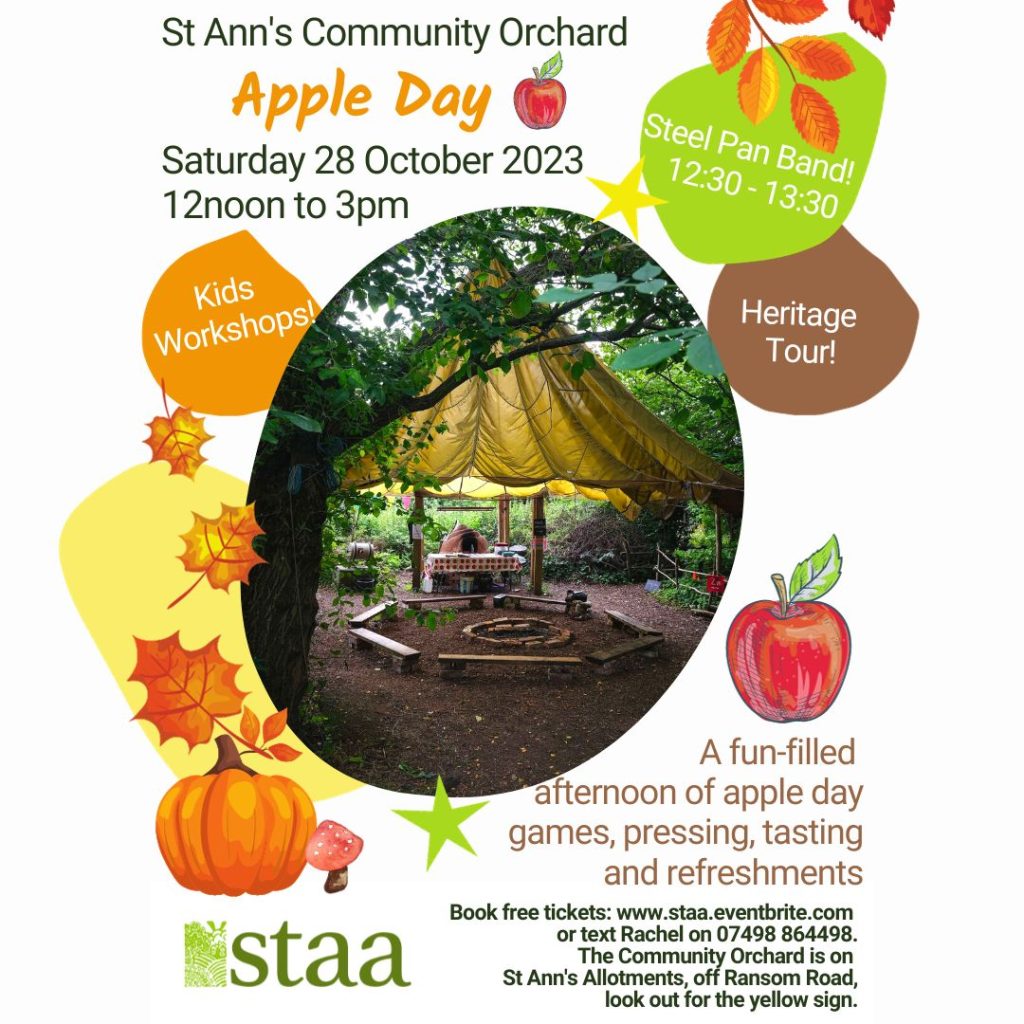 Volunteering & Social Gardening
Volunteering continues as usual, with plenty of opportunities to join us!
Tuesdays at the Nursery, 10:00-14:00
Digging, sowing, pruning, clearing, building, watering, harvesting! All things food and flower focused for a productive garden.
Wednesdays at Oliver's, 10:00-14:00
Help maintain a beautiful display garden for visitors to enjoy, and promote its heritage features.
Our Social Gardening sessions will run alongside our usual volunteer sessions, giving you the perfect opportunity to come and enjoy the the beautiful spaces, see our volunteer projects and have a go if you wish!
Volunteer inductions:
Tuesday 17th October 10:00 – 12:00
This is an introductory session for anyone interested in volunteering at STAA. Receive a tour of our projects to find out what you might be interested in, and an opportunity to meet people and ask questions.
If you have any questions about volunteering or social gardening, please contact Lucy at volunteer@staa-allotments.org.uk or visit our website.